The trend of Nepalese youth force leaving Nepal and moving abroad isn't anything new. There isn't a day when TIA doesn't have groups of people bidding farewell to their loved ones. It's a common site for young men and women to undertake a journey that very rarely brings them back home. What's sad is when people we look up to leave the country and settle elsewhere as well. His fans know him as Mr. Foodie Nepal. And yes, he'll be leaving Nepal soon too. How did we know? Sisan Baniya's story, what else. Shocked? We understand.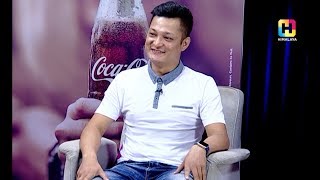 He'd just started earning fame as a beloved YouTube personality who brings entertaining videos that revolve around food. No wonder he's so popular! He's done food hunt challenges, funny short videos and entertaining vlogs that fans obviously love watching. He's got well over 18 thousand subscribers on YouTube and it's on the rise since his presentations are always lively and pleasant. About his videos and vlogs, there are plenty of amazing examples of what he's capable of. That's the thing to be proud about. The fact that our country has people capable of delivering amusing performances on camera. However, the sad part is that we are never able to retain such talents in the homeland.
Not just Mr.Foodie Nepal, there are thousands of young talents that we export outside the country. Most of them never even get exposure because when they don't find opportunities in Nepal, they spend their youths struggling to find solid grounds on foreign lands. Mr. Foodie has not yet released an official statement but when Sisan Baniya updated his story, it was pretty clear. There hasn't been any confirmation on how long will be staying abroad and if or when he'll come back home. The biggest question however is will he continue making videos for our entertainment? Will his love for exploring different kinds of food continue even when he's away? We'll just have to wait and see. Surely, he wouldn't disappoint his fans. Keeping our fingers crossed for the best.